Getty Images/Shutterstock
Savannah Guthrie and Hoda Kotb reacted to new allegations of rape against Matt Lauer on Wednesday's episode of Today.
"I feel like we owe it to our viewers to pause for a moment," Guthrie said during the first hour of the show. "You know, this is shocking and appalling, and I honestly don't even know what to say about it. I want to say that we—I know it wasn't easy for our colleague Brooke [Nevils] to come forward then. It's not easy now. And we support her and any women who come forward with claims. It's just very painful for all of us at NBC and who are at the Today show. It's very, very, very difficult."
Kotb then looked back at Lauer's 2017 firing, which took place following a complaint of inappropriate sexual behavior.
"I'm looking at you, and I'm having a weird moment that we were sitting here just like this two years ago, and truth be told, Savannah and I did a little prayer upstairs just before just to sort of sort out what we were going to do," she said. "I think it's like you feel like you've known someone for 12 years, and I don't know if you guys have ever felt like that: You know someone, you know them, you feel like you know them inside and out. And then, all of a sudden, like, a door opens up, and it's a part of them you didn't know. And we don't know all the facts in all of this, but they're not allegations of an affair. They're allegations of a crime. I think that's shocking to all of us here who've sat with Matt for many, many years. So, I think we're going to just sort of continue to process this part of this horrific story. And, as you said, you know, our thoughts are with Brooke. It's not easy what she did to come forward. It's not easy at all."
Guthrie then said "we're disturbed to our core" and pledged to keep viewers informed of any new developments.        
The anchors' response came less than 24 hours after Variety published a report about Ronan Farrow's new book, Catch and Kill, which has yet to be released. According to the outlet, which reportedly obtained the book, Catch and Kill details Nevils' allegations against Lauer, including an accusation that he anally raped her in his hotel room at the 2014 Sochi Olympics.
Neither NBC News nor E! News has seen a copy of the book. Lauer has also denied the allegations.
According to Variety, Nevils claimed she visited Lauer's room twice in one night after drinking with him and Meredith Vieira at the hotel's bar. She alleged the first time was to retrieve a press pass, which she said Lauer had taken as a joke. She said the second time was because he had invited her to return.
"[Nevils] had no reason to suspect Lauer would be anything but friendly based on prior experience," Farrow reportedly wrote in the book.
Nevils claimed Lauer, who was allegedly wearing a T-shirt and boxers upon her arrival, then pushed her up against a door and kissed her. She also alleged he pushed her onto his bed, flipped her over and asked if she liked anal sex. 
"She said that she declined several times," Farrow wrote, per Variety.
Nevils alleged she was in the middle of expressing her disinterest again when, as Farrow wrote, Lauer "'just did it.'" She claimed the experience was painful and that she cried into her pillow. She also accused Lauer of asking if she liked it and claimed she told him she did. 
"It was nonconsensual in the sense that I was too drunk to consent," she reportedly told Farrow. "It was nonconsensual in that I said, multiple times, that I didn't want to have anal sex." 
The two allegedly continued to see each other after the Olympics. Although, Nevils reportedly told Farrow "it was completely transactional" and "not a relationship."
While Nevils reportedly had concerns about the alleged impact Lauer could have on her career, she claimed she later told people about their alleged encounters, including Vieira. According to Variety, citing the book, Vieira encouraged her to go to HR with a lawyer. She did and Lauer was fired the next day.
Nevils, whose identity was not publicly shared at the time of Lauer's firing, went on medical leave in 2018. According to Variety, citing Farrow's book, she was paid "seven figures."  
"The first time we learned about Matt Lauer's sexual misconduct in the workplace was the night of November 27, 2017 and he was fired in 24 hours," an NBC News spokesperson said via a statement. "Any suggestion that we knew prior to that evening, paid any 'hush money,' or tried to cover up any aspect of Lauer's appalling behavior is absolutely false. NBCU's legal team has done an exhaustive search of available records and conducted dozens of interviews of past and present staff, and uncovered no claims or settlements relating to allegations of inappropriate conduct by Matt Lauer that pre-date his firing. Only following his termination did we reach agreements with two women who had come forward for the very first time and those women have always been free to share their stories about Lauer with anyone they choose."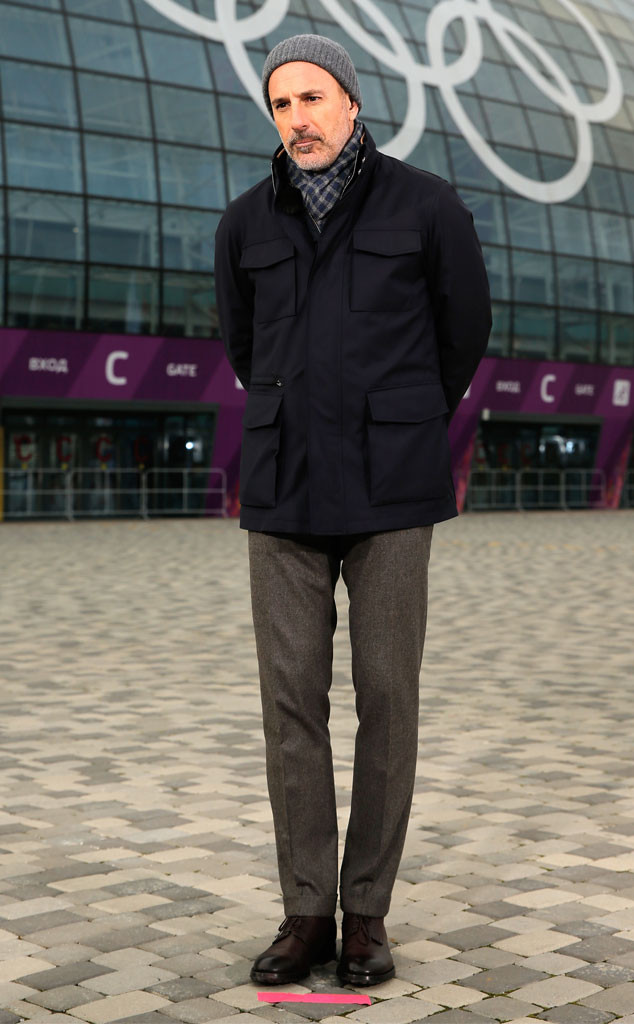 Scott Halleran/Getty Images
Lauer also denied the accusations in an open letter released Wednesday. In the letter, he said he had oral sex, vaginal sex and anal sex with Nevils but insisted "each act was mutual and completely consensual."
"The story Brooke tells is filled with false details intended only to create the impression this was an abusive encounter," he wrote in part of the letter. "Nothing could be further from the truth. There was absolutely nothing aggressive about that encounter. Brooke did not do or say anything to object.  She certainly did not cry.  She was a fully enthusiastic and willing partner.  At no time did she behave in a way that made it appear she was incapable of consent.  She seemed to know exactly what she wanted to do. The only concern she expressed was that someone might see her leaving my room.  She embraced me at the door as she left." 
Lauer also acknowledged the two had an affair after Sochi. Although, he claimed their "meetings were arranged mutually" and that she never expressed "in words or actions any discomfort." In addition, he slammed claims she had control over her career—saying she worked for Vieira, not him—during their affair.
"She claims our first encounter was an assault, yet she actively participated in arranging future meetings and met me at my apartment on multiple occasions to continue the affair," the letter continued. "She says I was the one pursuing the relationship, yet once it was over, she was the one calling me asking to rekindle it. She says she felt pressure to continue the affair because I had control over her career, but she did not work for me, the Today Show, or NBC News. She said she wanted to remain anonymous, yet she was reportedly trying to sell a book within year after filing her complaint. She said she just wanted NBC to 'do the right thing,' yet she sought a monetary payment, and two years after I was fired, she is stepping forward to do more damage. There are people who fully understand the actual dynamic that existed between Brooke and me.  They have reluctantly and quietly reached out in the past two years and shared what they know. They have accurately described Brooke and her role in this affair.  I hope those people will understand that these allegations cross a serious line, and what they can share is a vital truth, even if it may seem unpopular."
var fbstarttime = new Date(); !function(f,b,e,v,n,t,s) { if (f.fbq) return; n = f.fbq = function() { n.callMethod? n.callMethod.apply(n,arguments):n.queue.push(arguments) }; if (!f._fbq) f._fbq = n; n.push = n; n.loaded =! 0; n.version = '2.0'; n.queue = []; t = b.createElement(e); t.async =! 0; t.src = v; s = b.getElementsByTagName(e)[0]; s.parentNode.insertBefore(t, s); }(window, document, 'script', 'https://connect.facebook.net/en_US/fbevents.js');
fbq('init', '1611373942516879'); fbq('track', 'PageView');
var fbendtime = new Date();



Source link